Some source from Asia states that the upcoming Apple gadgets, iPhone 7 and iPhone 7 plus, will have a new feature: a dual front camera. At the same time, it is noted that only the bigger screen size flagship version will have it. It is stated that LG and Sony being suppliers of Apple will produce enough dual camera modules for the start of iPhone 7 sales in 2017.
How will iPhone 7 and iPhone 7 plus look like?
Possibly, the desired and expected by millions of fans around the globe gadgets will have a look shown in a schematic picture below.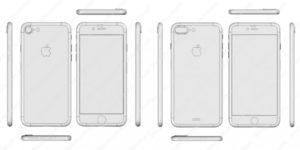 Not much is known about the next generation of flagship smartphones from Apple. Generally, experts think that the phones will come with 3 Gb RAM, will be waterproofed, and might get a faster processor. There are also debates as for the possible absence of the 3.5 mm headphone jack in the gadgets. For now, all these statements are still rumors to be cleared out by the next Apple's annual fall event.